Best Beaches Near Barcelona
As the summer sun shines brightly over Barcelona, July brings forth hot weather and bustling beaches. People venture from near and far to take a dip in the Mediterranean Sea. With the popularity of the city's main beaches, it often leads to crowded sands and a bustling atmosphere, which may not be as relaxing as anticipated. But fret not, for with a little insider knowledge and a short train ride all of this can be avoided. With a curated list of the best Barcelona Beaches, you can bask in the warmth of the sun for a peaceful day and a good time!
Ocata Beach
Just a short 30-minute journey from Barcelona lies Ocata Beach, a serene coastal oasis. This beach is long and wide ensuring a place for your towel to fit to lay down and relax for the afternoon. Take leisurely strolls along the shoreline, feel the soft grains of sand beneath your feet, and indulge in a delightful lunch or refreshing drink at one of the beach bars nearby. For a change of scenery, venture into ElMasnou, the charming town connected to Ocata Beach. Ocata Beach is the place to go if you are craving some personal space in the sand and for a time of relaxation by the sea!
Caldes D'estrac Beach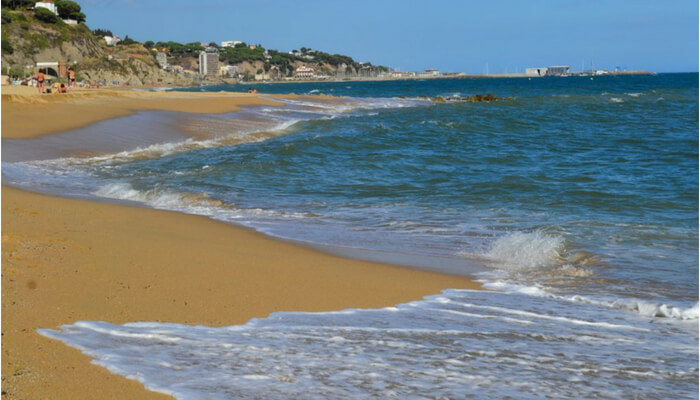 Caldes D'estrac is only a 45-minute train ride out of the Barcelona city center. This journey costs only 4 euros and is a low price to pay for the high-quality beach day you will experience. What you will find here: clean sand, kayak rentals, hiking paths, and a single beach bar. What you will not find here: a crowd of people and vendors walking the beach. Overall, Caldes D'estrac is a great beach for those looking to escape the hustle and bustle but still have some entertainment such as kayaking or hiking for when you get bored in the sand.
Garraf Beach
Garraf Beach is only 30 minutes out of Barcelona by train. It is the ideal destination for those seeking a local, authentic beach experience without venturing too far from the city. Nestled in a picturesque bay, this charming beach is accompanied by the quaint town of Garraf perched atop the rocky cliffs. Garraf Beach provides a refreshing alternative, with its serene ambiance and fewer crowds of tourists. You'll also find beach huts available for rent, offering a cozy space to relax and enjoy the seaside surroundings. 
Altafulla Beach
Altafulla Beach is a beautiful place to enjoy the Mediterranean Sea. Spanning over 1000 meters, this beach boasts glistening golden sand that invites you to lounge and unwind. Situated near the enchanting Medieval City of Tarragona, Altafulla Beach offers a harmonious blend of coastal bliss and historical exploration. The serenity of this beach makes it well worth the 1-hour journey out of Barcelona.
Sitges Beaches
The lovely town of Sitges offers a great escape from the fast-paced Barcelona atmosphere. Only 45 minutes by train from Barcelona, Sitges welcomes you with its warm and inviting ambiance. Sitges offers two main beaches where you can relax in the sand or take a paddle board into the sea. After a leisurely beach day, indulge in a delectable lunch at one of Sitges delightful restaurants, and shopping at the small boutiques on your walk back to the train will be the cherry on top of your get-away day!
Let us plan your beach day!
If you're currently planning your day trip to the beach, book one of our guided day tours in Sitges for the Mediterranean vibes and a hassle-free journey!
Have questions regarding your trip? Contact Us!